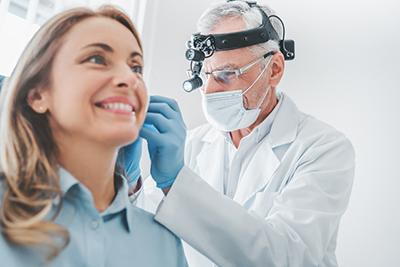 Viruses, infections and conditions of the ears, nose, and throat can be complicated. That's why it's important to visit a specialist, known as an ENT doctor. ENT doctors are the experts you need.
ENT doctors go through additional specialized training beyond medical school. This additional training provides them with the expertise to help with ear, nose, throat, and sinus problems.
Sometimes an ear, nose, and throat problem will go away on its own, but not always. So, when should you see an ENT doctor?
If you have an ear, nose, throat, sinuses, head, or neck condition which has lasted longer than 7 to 10 days. You should also visit an ENT doctor if you have:
A fever that continues for more than 3 days
Pain in your ears, throat, nose, head, or neck which doesn't go away
A discharge coming from your ears
A green or yellow discharge coming from your nose
Sinus pain and pressure that doesn't go away
The signs and symptoms listed above could be a sign of a viral or bacterial infection. Your ENT doctor can diagnose the cause of the problem and administer treatment, so you feel better.
Viral and bacterial infections are just two reasons why you need to see an ENT doctor. There are many more, including if you suffer from:
Allergies
Hearing loss
Thyroid problems
Chronic sore throats
Snoring and sleep apnea
Swollen lymph nodes in your neck
Tinnitus, or ringing in your ears
Your ENT doctor offers a wide variety of services and treatments to help you stay healthy. You might visit an ENT doctor for:
Allergy testing and treatment
Balloon sinuplasty or sinus issues
Hearing aids or hearing loss
If you have problems breathing, difficulty swallowing, hearing issues, or pain in your ears, nose, throat, or sinuses, it's time to visit your ENT doctor.
Your ENT doctor can help you breathe better, hear better, and live more comfortably, so call your ENT doctor today.